Ergonomics in the kitchen
Ergonomics - convenience in using, is one of the most important factor affecting the comfort of your work in the kitchen. It is known that with a proper arrangement of furniture and kitchen equipment reduce time spending during cooking and preparing meals. The user cannot understand for many years why he/she feels that his/her kitchen is uncomfortable. In general, it is a fault of making wrong decision at the beginning of designing the kitchen. Kitchen designs are one of the most difficult and frequent tasks practicing by a designer.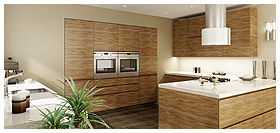 Properly arranged and designed kitchen interior is a big challenge for customers so it is not wonder that customers place it in designer's hands. There are some situations that customers use ready designs which are bought with a single-family home's design and generally speaking the first analyze is sufficient that the interior of the kitchen requires individual arrangement.
So please remember that your kitchen is not only the external reception but above all functionality.
Three steps to Your Beautiful Kitchen
The Lidan Piękne Kuchnie respect your time and care about your comfort. The process of implementation is divided into three basic steps:
1. Measurement and a design
Our expert measures a kitchen room (measurement can be delivered to us). At the same time we acquaint you with materials, executive possibilities as well as we listen to your expectation and wishes connected with your kitchen. It is a base to prepare an appropriate design of the kitchen. The design can be changed depending to your opinion, needs and fancy.
2. Signing of an agreement
The valuation process begins if all important details connected with the kitchen design are agreed. Signing of the agreement and transferring design with all documents follow after receiving your acceptation. The agreement guarantees you executing an order on time and sets a deadline for an assembly.
3. An implementation of an order and an assembly
During the time when you get ready the kitchen room, we prepare furniture and in the agreed time we arrange a transport to your home. The assembly is done by our qualified employees and it usually lasts 3-4 days.
We offer you our help at each stage of realization as well as after having finished it. We are particular about the fact that furniture can be used for many years so your and our satisfaction of the assembly is the most important thing.
Business Patners
The Lidan Company regularly cooperate with several suppliers of equipment, furniture fronts and any other accessories required to furniture production.
Regular suppliers are chosen among companies with long-term experience and a picture-perfect product.
Criterion of the selection of suppliers is a guarantee of continuity and repeatability supplies - it is a source of a collective success.